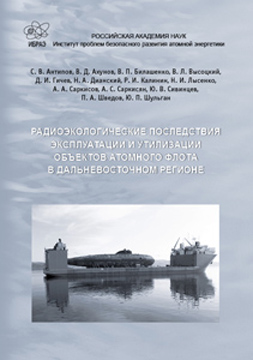 Language: Ðóññêèé
Publish year: 2010
Pages: 388

PUBLISHER: ÈÁÐÀÝ ÐÀÍ
Edited by A.A. Sarkisov, Academician of RAS
The radioecological problems associated with operation and dismantling of decommissioned nuclear and radiation hazardous facilities of the Pacific Fleet are described. The sources of hazards from these facilities, scenarios for evolution of possible emergency situations and their impact on personnel, population and environment are considered. The bottlenecks and problems that complicate disposal work and rehabilitation of contaminated areas are identified. Ways of optimization are suggested, and the basic ways to solve the existing problems are outlined.
For experts in nuclear, radiation and environmental safety, as well as representatives of the technical intelligentsia and the public interested in the problems of the Pacific Nuclear Fleet.
Bibliographic information
Radioecological Consequences of Operation and Decommissioning of Nuclear Fleet Facilities in the Far Eastern Region / S.V. Antipov, V.D. Akhunov, V.P. Bilashenko, V.L. Vysotsky, D.I. Gichev, N.A. Diansky, R.I. Kalinin, N.I. Lysenko, A.A. Sarkisov, A.S. Sarkisyan, Yu.V. Sivintsev, P.A. Shvedov, Yu.P. Shulgan; edited by A.A. Sarkisov, Academician of RAS; Nuclear Safety Institute of RAS (IBRAE RAN). — M., 2010. — 388 p. ISBN 978-5-9907220-3-3.