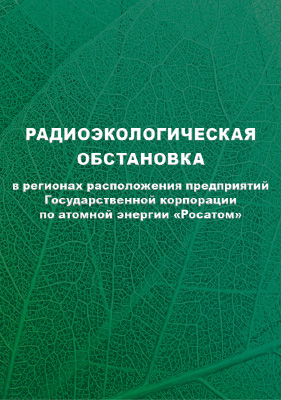 Language: Ðóññêèé
Publish year: 2021
Pages: 555

PUBLISHER: ÈÁÐÀÝ ÐÀÍ
Authors: Panchenko S.V., Ph.D. Vedernikova M.V., Dr. of Tech. Sc., Member of RSCRP Linge I.I., Ph.D. Melikhova E.M., Ph.D., Member of RSCRP Utkin S.S., Arakelian A.A., Ph.D. Svitelman V.S., Gorelov M.M., Pechkurova K.A., Gavrilina E.A. — IBRAE RAN;
Dr. of Ph.-Math. Sc., Professor, Member of RSCRP Kryshev I.I., Burjakova A.A., Kosykh I.V., Ph.D. Pavlova N.N., Dr. of Ph.-Math. Sc. Sazykina T.G., Dr. of Biol. Sc. Kryshev A.I. — RPA "Typhoon", Roshydromed.
Bibliographic reference:
Radioecological situation in regions of State Atomic Energy Corporation Rosatom enterprises location / Under joint editorship of I.I. Linge and I.I. Kryshev. — 2-nd Ed. — M.: 2021. — 555 p. : ISBN 978-5-907375-04-08. (in Russian)
ANNOTATION:
In the second edition of the book, the radioecological situation around the basic enterprises of the nuclear industry is updated for the entire period of their operation. Practical issues of assessing the current state and long-term forecasting of the levels of radiation exposure of nuclear industry enterprises, including nuclear heritage sites, to humans and the environment are considered. A significant place in the book is devoted to the formation of judgments about whether such an impact is permissible and to what extent protective measures are necessary.
The book is aimed at employees of industrial organizations engaged in activities in the field of atomic energy use and specializing in radiation safety and environmental protection issues, as well as specialists of atomic energy management bodies and state safety regulatory bodies.
The materials of the completed studies were prepared within the framework of the Federal Target Program "Ensuring nuclear and radiation safety for 2016—2020 and for the period up to 2030".